This month marks the 2018 Keeneland Spring Meet in Lexington, KY and with that a chance for me to visit one of my favorite places on earth. It easily tops the list of one of my favorite sports places.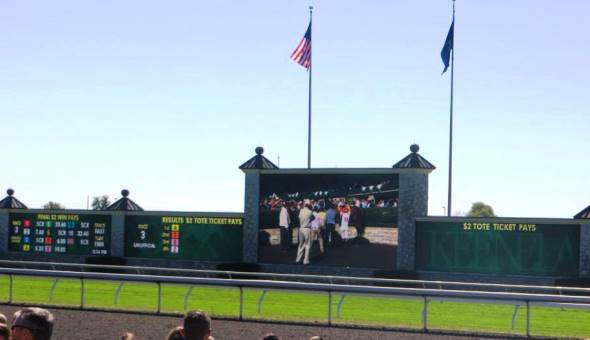 When you think of race tracks, you often get an immediate picture of what it looks like. Keeneland is the exact opposite of that. It is beautiful and elegant. The races are always good and the atmosphere is electric.
When my dad passed away over seven years ago he asked to be cremated. It was a thought at first I didn't quite understand, but knowing it was his wish we all obliged.
Since that time my siblings and I have taken dad all of over the world. Most of his ashes were spread in Murrell's Inlet down in Pawley's Island, S.C. My brother just took some of Chief with him on his recent trip to Ireland.
Shortly after he died, I took some of his ashes with me to the Kentucky Derby. Not only did I go to have my greatest day of betting on ponies ever, we sprinkled some of my dad on the Churchill dirt after the final race came to an end.
As sports fans we have places that are dear to our heart too. If you were to choose to be cremated what sports places would you want to have your ashes spread?
Let me know @DanClasgens on Twitter with #My1MoreThing where in sports would you spread your ashes? What are your favorite sport places?
Here is my complete list of favorite sports places:
Keeneland – Love Lexington especially in October with the fall scenery, but I won't turn down a trip in April either. Enjoy a tailgate on the rolling hills of the parking lot before or after the races, or better yet make the trip on a charter bus and let someone else do the driving.
Great American Ballpark – I've been to 18 MLB stadiums and like several, but the Reds are my hometown team. For the record of sports ashes though, my wife Kelly and I have been to 16 MLB stadiums together and are planning to get to all 30. If I were to pass away before getting there she's been instructed to finish the trip and take me with her.
Rupp Arena – It's a bit outdated, but man there's nothing like seeing a college basketball inside Rupp Arena.
What places make your list? Tell me #My1MoreThing on Twitter @DanClasgens.