It's never too early to start planning for next season. One of my rituals the past five years has been to participate in the SiriusXM Fantasy Mock Draft the week right after the season. It's a great exercise for this point of the calendar and really helps lay the foundation for my off-season prep.
Let's take a look at the draft board…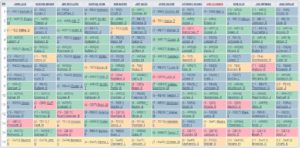 (CLICK IMAGE FOR FULL VIEW)
Some quick notes:
12-team / PPR
15-round (no kickers)
All incoming rookies included for consideration
My Toughest Decisions
Taking Le'Veon Bell before Joe Mixon and Nick Chubb with all unknowns about his status.
Taking  Antonio Brown ahead of Julio Jones, Tyreek Hill, and Odell Beckham.
Taking Amari Cooper before AJ Green, T.Y Hilton and Stefon Diggs.
Taking Russell Wilson over Cam Newton as my QB in Round 11.
+++
Keep up with my fantasy takes all year long, subscribe to The GetSportsInfo Podcast:
From The GetSportsInfo Podcast:
Subscribe to the podcast on I-TUNES | GOOGLE PLAY | STITCHER | SOUNDCLOUD
+++
Round 1
Had 9 RB's and 3 WR's. 8 of first 9 picks were RB's.
Rounds 1-2
There 13 RB's, 10 WR's and 1 TE selected. Last year in this same draft there were 15 RB's, 8 WR's and 1 TE selected.
QB
(expert leagues always see them fall)
3.8 Patrick Mahomes was first to go off board
7.11 Deshaun Watson was second QB selected.
Andrew Luck and Aaron Rodgers both went a round later.
Only six QB's go off the board in the first 10 rounds.
TE
Travis Kelce went with pick 2.6 as the first TE off the board.
Two TE's went in Round 3 with George Kittle (3.1) & Zach Ertz (3.5) being nabbed.
Rob Gronkowski was TE4 drafted, but didn't go until 6.2.
Six TE's selected in Rounds 6 & 7 with nine total off the board at that point.
I am willing to spend a third-round pick on one of the big three – Kelce, Ertz, and Kittle. If I don't get one of these guys I will likely be the last owner in the league to grab one.
TOP ROOKIES DRAFTED
RB31: David Montgomery (Iowa State)
RB34: Bryce Love (Stanford)
RB38: Bennie Snell Jr. (Kentucky)
RB42: Darrell Henderson (Memphis)
WR40: N'Keal Harry (Arizona State)
RB45: Damien Harris (Alabama)
WR47: DK Metcalf (Ole Miss)
*Let me know what you think about draft on Twitter @DanClasgens