It's never too early to start planning for next season. One of my rituals the past few years has been to participate in the SiriusXM Fantasy Mock Draft. the week right after the season. It's a great exercise for this point of the calendar and will lay the foundation for our off-season prep.
Let's take a look at the draft board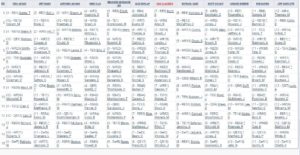 (CLICK IMAGE FOR FULL VIEW)
Some quick notes:
12-team / PPR
15-round (no kickers)
All incoming rookies included for consideration
My Toughest Decisions
Taking Hunt before Kamara
Taking Allen before Evans and Green
Taking Landry before Baldwin (this is PPR)
Taking CJ Anderson as my RB4 in Round 8
Round 1
Had 8 RB's and 4 WR's. 6 of first 8 picks RB's.
Rounds 1-2
There 15 RB's, 8 WR's and 1 TE selected.
QB
(expert leagues always see them fall)
4.10 Watson was first to go off board
6.6 Rodgers was second QB selected.
Russell Wilson was taken at pick 8.5.
Round 9 – 4 more QB's get drafted.
TE
Gronk went with pick 2.8
Kelce taken in the 3.11 spot
Ertz drafted as TE3 at 5.4.
Olsen nabbed at 5.12.
*Let me know what you think about draft on Twitter @DanClasgens
Check out of my fantasy takes over at Pro Football Focus – RB Lessons Learned in 2017 / Historic run by Saints' RB's.