With the NFL Free Agency period dying down and the NFL Draft nearing, I joined some of my fellow SiriusXM Fantasy Sports Radio hosts in an early 2021 fantasy football draft. 
Unlike some other mock drafts I have already participated in this year, this league will be played out which always makes things more interesting.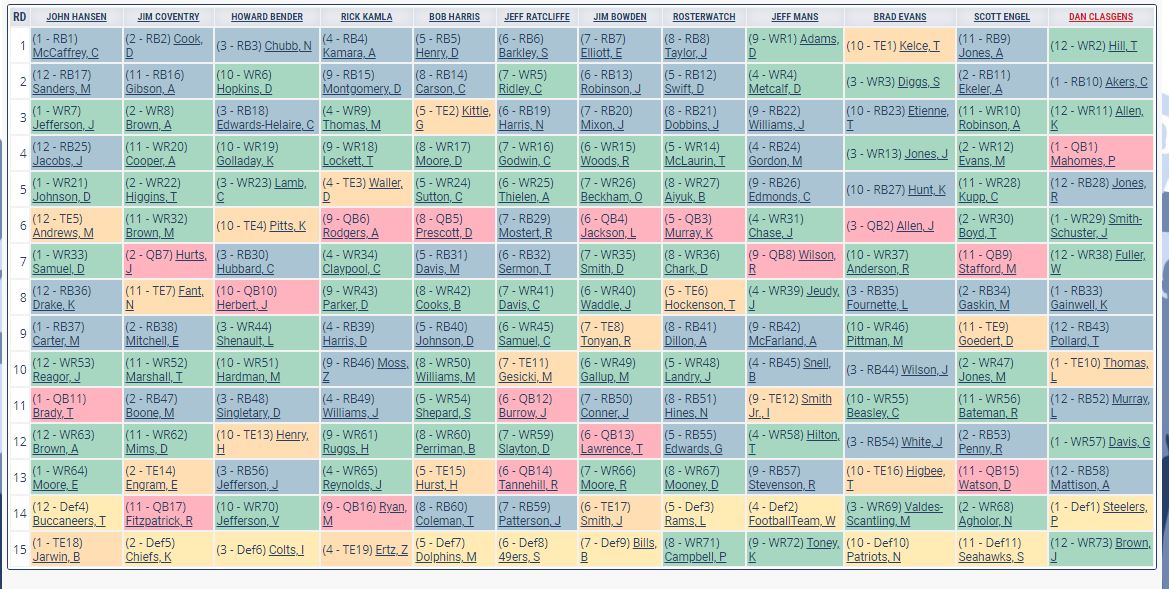 *Click on image to see full size board
THINGS TO KNOW
This was a 12-team snake draft based on 0.5 PPR.  We had 15 rounds/roster spots with a starting lineup of 1 QB, 2 RB, 3 WR, 1 TE, 1 DEF and 1 FLEX (RB, WR or TE).  There are no kickers in this format.

Running backs are still ruling the roost. Nine of the 12 picks in Round 1 were running backs and 23 of the first 36 were at the position.

Only two wideouts went in Round 1, including me taking Tyreek Hill at 1.12. Four more receivers were taken in Round 2 and through three rounds there were 12 players at the position off the board.

Patrick Mahomes was the first QB to go off the board at pick 4.1 (37th overall), but then it wasn't until pick 6.03 (63rd overall) when the next quarterback, Josh Allen, was selected. In total, five quarterbacks went off the board in Round 5 and three more in Round 7.

Tight ends were all over the place here. Travis Kelce went at pick 1.10 and George Kittle at 3.5. After that Darren Waller was the next guy off the board at 5.4. Only five tight ends total were taken in the first six rounds.

It is always interesting to see how far people will reach for rookies before knowing where they'll land in these early drafts. This draft was no different. Najae Harris was not surprisingly the first rookie to go off the board at pick 3.06 with fellow rookie runners Javonte Willaims and Travis Etienne joining him just a few picks later. It wasn't until Round 6 where non-running back rookies went off the board as Ja'Marr Chase went at pick 6.04 followed by Kyle Pitts at pick 6.10.
+++
From The GetSportsInfo Podcast:
Subscribe to the podcast on I-TUNES | GOOGLE PLAY | SPOTIFY | STITCHER | SOUNDCLOUD 
+++
MY PICKS
1.12 – Tyreek Hill (WR2)
2.01 – Cam Akers (RB10)
3.12 – Keenan Allen (WR11)
4.01 – Patrick Mahomes (QB1)
5.12 – Ronald Jones (RB28)
6.01 – JuJu Smith-Schuster (WR29)
7.12 – Will Fuller (WR38)
8.01 – Kenneth Gainwell (RB33)
9.12 – Tony Pollard (RB43)
10.01 – Logan Thomas (TE10)
11.12 – Latavius Murray (RB52)
12.01 – Gabriel Davis (WR57)
13.12 – Alexander Mattison (RB58)
14.01 – STEELERS DEF (DEF1)
15.12 – John Brown (WR73)
EARLY ROUNDS
Running backs are hot commodities early in drafts, butI resisted the temptation to take two in my first two picks, especially knowing that we start up to four wide receivers. Going RB/WR combo with the first selections was my pre-draft plan, but had Aaron Jones slipped one more spot I would've pulled the trigger on two running backs. Instead I landed on Tyreek Hill and Cam Akers. Hill could be argued as fantasy's top wideout and if Akers plays like he did down the stretch as a rookie, I could have a top 5 pick in Round 2. Ideally, I would've also gone RB/WR on my next go round at picks 36 and 37. However, with 23 running backs off the board by time it got to me, I wasn't going to be forced into taking a RB I didn't like (Melvin Gordon, Josh Jacobs, etc.) and I didn't want to go too early on ones I do (Kareem Hunt, Chase Edmonds). Grabbing Keenan Allen as my WR2 in a PPR was an easy decision, but at pick 4.1 it wasn't as clear. For me it came down to Dareen Waller, who I have as my TE2, or grabbing the first QB off the board in Patrick Mahomes. I know QB's go later than normal in these industry leagues so I was inclined to go Waller and in hindsight that might have been the better move. With Hill in the fold already though I couldn't pass up the temptation to go Mahomes.
MID-ROUNDS
When I went with Mahomes, I was really hoping that Edmonds or Hunt would make it back to me at pick 60 to fill in as my PPR RB2, but they both went off the board just ahead of me. I settled for Ronald Jones, who did show flashed last year as a solid starting fantasy RB. He could win up being the key to the success of this team. Adding JuJu Smith-Schuster and Will Fuller to an already solid corps of wideouts helped give me one of the best starting groups of wideouts in this league. With every analyst in this draft reaching multiple rounds for rookies in some cases, I was happy to still get a crack at Kenny Gainwell at 8.1 and then I added some much needed depth in the backfield by grabbing Tony Pollard (RB43) at pick 9.12.
LATE ROUNDS
Even though I was still kicking myself a bit for passing on Waller earlier in the draft, I was happy to grab my favorite sleeper tight end Logan Thomas (TE10) at pick 10.1. With Ryan Fitzpatrick's arrival to Washington, I am bullish on the Football Team's passing attack as a whole this year and think Thomas could take a big step forward in 2021. Grabbing other owners' elite handcuffs in Latavius Murray and Alexander Mattison made sense to me. If either gets an injury in front of them my running back concerns are immediately solved. I liked adding depth at WR in those final picks, especially second-year wideout Gabriel Davis. He was a steal at WR57. 
*Hit me up on Twitter @DanClasgens to let me know which team you like the most and what you think of my draft.